Ayurveda is a traditional form of natural healing that deals with the Spiritual, Physical, Mental & Intellectual aspects of human life. Ayurveda, the natural system of healing, has been in practice for more than 5000 years. There are many Ayurvedic hospitals in North India, and they help in relieving various chronic problems.
Ayurveda works to maintain the balance of the energy of one's body through the balancing of the vitiated Doshas. There are many types of Panchkarma therapies mentioned in Ayurveda which help in the rejuvenation of the body and mind. These treatments are all customizable and get to the root cause of the ailment. Ayurveda also stresses the importance of a healthy nutritional diet and Lifestyle.
Explore the 10 Best Ayurveda Hospitals of North India one by one.
1- Vaidyaratnam-Vrindavan Ayurveda Chikitsalayam
Vaidyaratnam-Vrindavan Ayurveda Chikitsalayam is one of the Best Ayurvedic Hospital Near Chandigarh.
Vrindavan Ayurveda Chikitsalayam is not a SPA; it focuses on treating various ailments through 5000 years old Ayurvedic therapies, medicines, yoga, meditation etc. and many patients from India and abroad visit this place for treatment.
Treatments of ailments like arthritis, migraine, back pain, various neurological disorders (Parkinson's, Paralysis, Alzheimer's etc.), skin problems, hypertension, thyroid, insomnia, gynaecological disorders, muscular dystrophy, stress related disorders are available under one roof following traditional Ashtavaidyan systems which are result oriented.
Address: Vrindavan Ayurveda Chikitsalayam is in Baddi (Himachal Pradesh), at the junction of Punjab and Haryana, with the capital city Chandigarh being a 60-minute drive from Vrindavan Chikitsalayam, Baddi
Website: Www.vrindavanchikitsalayam.com
Email: Ayurveda@vrindavanchikitsalayam.com
Contact No.: 7901778899, 01795667166
2. Maharishi Ayurveda Hospital
This Ayurveda hospital is Accredited by the NABH, and it is one of the oldest and most well-known institutions. The treatments offered by the hospital are authentic and also offer accommodation to the patients. It is approachable from International Airport, New Delhi and Old Delhi Railway station and Nizamuddin Railway Station. The facilities here are:
• Highly experienced Ayurvedic Doctors (Vaidyas)
• Skillful & caring Therapists
• Balanced herbal formulas applied in all treatments & therapies
• Ayurvedic Diet
Address – BP – Block, Shalimar Bagh (West), Delhi – 110088, India.
Website: https://www.maharishiayurvedaindia.org/
3. All India Institute of Ayurveda
This institute is an autonomous organization under the Ministry of AYUSH and certified by the NABH. The hospital is oriented toward providing Ayurvedic treatment and therapies to people with chronic ailments; this institute provides the following services:
• OPD/IPD Services
• Panchakarma
• Kriyakalpa
• Ksarasutra
• Para-surgical procedures
• Diagnostic facilities.
Address – Mathura Road, Gautampuri, SaritaVihar, Gautampuri Awas, Badarpur, New Delhi, Delhi 110076
They can be contacted at http://www.aiia.co.in/.
4. Dr Monga Ayurvedic Medi Clinic
If you've been searching for a holistic and balanced approach to your overall health, this is the place for you. The hospital offers a comprehensive range of treatments which include panchkarma therapies, gastroenterology, hair and skin, diabetes and other counselling as well. The various ailments that they treat are:
• Constipation
• Piles
• Relationship counselling
• HIV Counselling
• Sexual Problems
• Hair & Skin problems
• Panchkarma
Address- Dr Monga AyurvedicMedi Clinic (P) Ltd.,(Formerly DrMonga Clinic), 20, National Park (Basement), Near Moolchand Metro Station, Lajpat Nagar Part-4, New Delhi 110024 (India)
Their website address is http://www.drmongaclinic.com/
5. Shri Kaya Kalp Ayurvedic Center
Kaya Kalp Ayurvedic Center offers a very effective treatment methodology based on the classical texts of Ayurveda. At the hospital, you can expect relief from the acute and chronic ailments which have been troubling you. They have been treating thousands of patients suffering from chronic ailments such as PCOS, Acne, Slip Disc, Vitiligo, and Diabetic neuropathy. The services offered by them are:
• Consultations and analysis
• Panchakarma Treatments
• Gynaecological treatments
• Rejuvenation therapies
• Leech therapy
• Hair Treatment
• Holistic beauty and skin treatment
Address- C-2/95, Janak Puri near Kendriya Vidyalaya, New Delhi – 110058, India.
Their web address is http://www.ayurvedacoursesindia.com/
6. Aastha Ayurvedic Clinic
At Aastha Ayurvedic Clinic, one can expect genuine ayurvedic treatments and Panchkarma therapies. The doctor and staff here are well qualified and experienced. They have their own manufacturing unit and have formulations for various diseases. The various kind of Ayurvedic treatments available here are:
• Piles – Hemorrhoids – fissure
• Sexual disorders
• Tonsillitis
Address – C- 10/27 sector 15, Rohini, New Delhi, 110086, INDIA and WZ -1747, Near M2K, Rani Bagh, Delhi-110034.
The web address is http://www.asthaayurveda.in/
7. Dr Sudha's Ayurveda Kendra
This Ayurveda Kendra is one of the best ones in providing authentic Ayurvedic healing experiences to her patients daily with state-of-art facilities. They have a high percentage of success rate in the treatment of all types of chronic ailments like paralysis, arthritis, spondylitis, slip-disc and sciatica. The various therapies provided here are:
• Healing therapy
• Stress relief and relaxation package
• Beauty & Wellness Therapies
• Yoga therapy
Address- B-5 / 99 Safdarjung Enclave,Near R.K. Khanna Tennis Stadium,New Delhi-110029.
Their website is http://www.ayurvedakendra.in/
8. Kurias Earth Ayurveda Hospital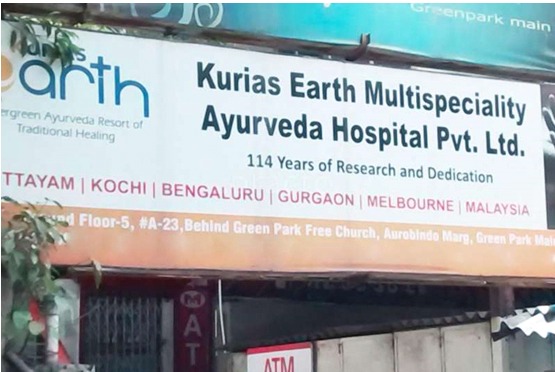 This hospital is a dedicated attempt to recreate the wonders of Ayurveda in the modern world. Health care stresses perfect Lifestyle and simple procedures for preventive Health care that are called Swasthavritta. The hospital provides comprehensive management of chronic ailments. These include consumption of a wholesome diet and observing personal, spiritual and moral conduct. The various kind of Ayurvedic treatments available here are:
• Teenage Problems
• Obesity
• Computer Vision Syndrome
Address- Ground Floor 5, A-23, Behind Free Church, Sri Aurobindo Marg, Green Park, New Delhi, Delhi 110016.
Their website is http://www.earthhospital.co.in/
9. Ch. Brahm Prakash Ayurved Charak Sansthan
This is one of the autonomous institutes under the Government of Delhi. There are a number of herbal plants and trees which they use for their herbal treatments, such as Guggul, Chandan, Kapoor, Satavari, Kalmegh, Aswagandha, Brahmi etc. They are providing services such as:
• Panchkarma
• Leech Therapy
• Herbal Garden
• Yoga
Address- Village KheraDabar, Najafgarh, New Delhi-110073.
You can reach out to them at http://cbpacs.com/
10. Santhigram Kerala Ayurvedic Hospital, Central Delhi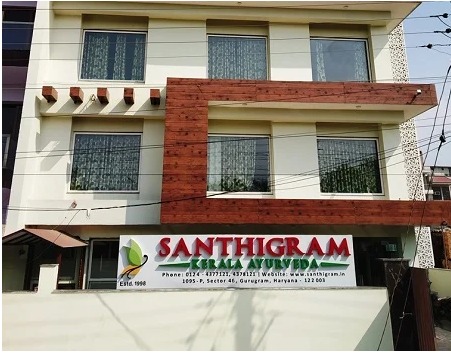 It is one of the leading and renowned names among the Ayurvedic hospitals in Delhi. The hospital is administered under the supervision of qualified Ayurvedic doctors. They are equipped with medical equipment. The hospital is equipped with medical equipment and provides a number of services to the patients, such as:
• General and ICU beds
• Canteen
• Pharmacy services
• Ambulance services
Address- A2/32, Safdarjung Enclave, Delhi, Central Delhi, Delhi.
You can also get more information on their website – http://santhigiriayurveda.com.
Conclusion
The list of hospitals mentioned here is best in itself. For your convenience, you can visit there and avail the benefits of therapy and treatment. The hospitals, as mentioned above, are some of the best places for Ayurveda treatments in North India, offering holistic wellness and providing the best accommodation and modern amenities. If you're suffering from chronic ailments, do visit
an Ayurveda hospital for proper treatment.