Stress has become part of our everyday work and personal lives. That's why it is important to manage. To help residents of Winnipeg with their mental wellbeing, we have created this list of top relationship and stress therapists.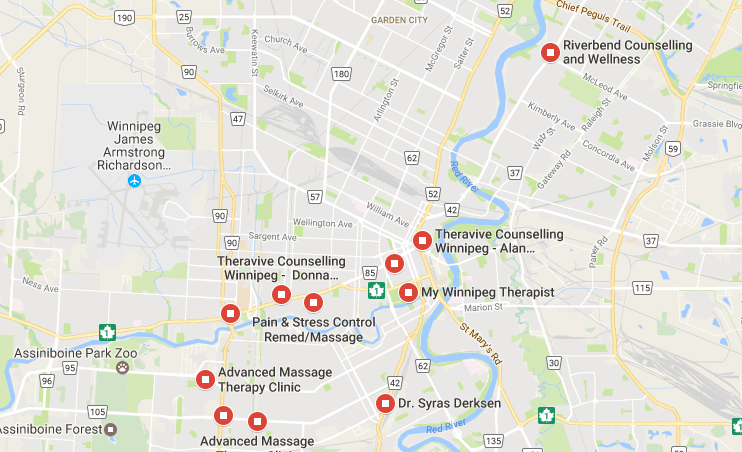 Go through our top list of relationship experts to hire the best in Manitoba region.
Douglas Hanson
Douglas Hanson is a psychotherapist in Winnipeg, MB with vast experience in counseling couples and individuals with stress. With over 27 years of experience as a therapist, he helps clients with issues like depression, bipolar disorder, anxiety and panic attacks.
Website link – http://douglashansontherapist.com/
Mind Matter
Mind Matter Clinic is a team of psychologists, speech and language pathologists, and therapists. They provide services like assessment, therapy, group therapy for children, workshop adult, consultation, depression, test anxiety etc. A must-consider if you are looking for top relationship therapists in Winnipeg, Manitoba.
Top therapist in Winnipeg – http://www.mindmattersclinic.calls.net/
Dr. Syras Derksen
Dr. Syras Derksen provides mental health services in private practice, hospitals, and community centers. He has been providing psychological services since 2003. Registered as a clinical psychologist in Manitoba, Syras has earned a reputation as a therapist in Winnipeg in last decade.
Best psychologist in Manitoba – http://www.drsyrasderksen.com/
Russell & Associates
Located at Winnipeg, Russel & Associates is a group of professional counseling therapists operating independent practices. The team has lots of counseling experience, and focus on consultant quality improvement & high ethical standards. The therapist clinic has a track record for effectiveness and positive testimonials from patients.
Top therapy clinic in Winnipeg- http://www.russellcounselling.com/
Oakville
There are many therapy clinics in Winnipeg but Oakville is one of the few that have emerged as a brand. They are visited by patients facing problems related to relationship, depression, anxiety, career, educational, family etc. Another top resource for relationship and stress-related counseling & advice.
Best relationship therapy – http://www.oakvillewellnesscenter.com/
Riverbend Counselling and Wellness, Thrive Counselling, Heilsa Holistic Solutions, Life Currents Counselling, and Advanced Massage Therapy Clinic are some other top relationship & stress therapy clinics in Winnipeg region,
Do you know any other psychotherapist or clinic doing great consultation work in Winnipeg? Share the details with us at hello@top10consultants.com and we will consider it for inclusion.